| | | |
| --- | --- | --- |
| | pipeline crawler | |
SELF-CONTAINED CRAWLERS "KROT"
FOR IN-PIPE RADIOGRAPHIC INSPECTION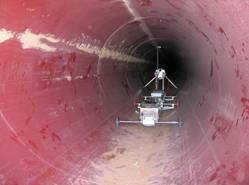 Crawler KROT – is reliable, microprocessor-controlled crawler trolley IRIS, produced by company IPSI (France) with X-ray unit of constant potential installed on it. The crawler could be completed with gamma-emitting isotope having the motor-injector built-in.  
Crawlers of KROT series move inside the pipe with speed of up to 16 m/min to the distance of up to 2 kilometers and provide the efficient inspection of the tubes with diameter from 150 to 1850mm. The wide working range of environmental temperatures and waterproof design allow the application of this instrument in different climate conditions. Thanks of independent motors of fore and rear wheels the unit has a high passing ability; it can overcome those pipeline sections that have steep slopes and minor turn radiuses.
The instrument is controlled by radio-isotopic or magnetic bench-marks (at the customer's option).
---
KROT Х-25
This model is designed for the in-pipe panoramic radiography of welds in the pipelines of small diameters in field conditions. The optimum thickness of the pipe wall of diameter – not more than 20mm. When using the FOSFOMATIC system or high-speed films type KODAK HS800 or intensifying screens it is possible to inspect pipelines with pipe walls of bigger thickness.

Minimum diameter of the pipes: 150 mm
Maximum diameter of the pipes: 500 mm
Full weight: 45 kg
Length without X-ray unit: 695 mm
Speed: up to 16 m/min
Admissible slope of movement: 30% - 16.6º
Admissible pipe bend: 10d
Working range of temperatures: -40ºС … +80ºС
Storage battery capacity of the trolley: 24V 4A/hour
Autonomous distance: 2 km
Braking accuracy: ± 5 mm
Maximum voltage of the tube: up to 160 kV
Maximum anode current of the tube: up to 3 mA
Maximum power on the anode of the tube: 320 W
Maximum weight of the unit: up to 12 kg

» Details


add to cart

delete from cart
KROT X-76
This model is designed for the in-pipe panoramic radiography of welds in the pipelines of big diameters in field conditions. The optimum thickness of the pipe wall of diameter – not more than 30mm. When using the FOSFOMATIC system or high-speed films type KODAK HS800 or intensifying screens it is possible to inspect pipelines with pipe walls of bigger thickness.

Minimum diameter of the pipes: 300 mm
Maximum diameter of the pipes: 1500 mm
Full weight: 83 kg
Length without X-ray unit: 2700 mm
Speed: up to 13 m/min
Admissible slope of movement: 40% - 22.2º
Admissible pipe bend: 10d
Working range of temperatures: -40ºС … +80ºС
Storage battery capacity of the trolley: 24V 36A/hour
Autonomous distance: 2 km
Braking accuracy: ± 5 mm
Maximum voltage of the tube: up to 250 kV
Maximum anode current of the tube: up to 6 mA
Maximum power on the anode of the tube: 500 W
Maximum weight of the unit: up to 29 kg

» Details


add to cart

delete from cart
KROT X-85
This model is designed for the in-pipe panoramic radiography of welds in the pipelines of big diameters in field conditions. The optimum thickness of the pipe wall of diameter – not more than 45mm. When using the FOSFOMATIC system or high-speed films type KODAK HS800 or intensifying screens it is possible to inspect pipelines with pipe walls of bigger thickness. The model is completed with gasoline generator, which allows the operation of high power capacity X-ray units and the radiographic inspection of bigger quantity of joints per one diagnostics session.

Minimum diameter of the pipes: 300 mm
Maximum diameter of the pipes: 1500 mm
Full weight: 99 kg
Length without X-ray unit: 2700 mm
Speed: up to 13 m/min
Admissible slope of movement: 40% - 22.2º
Admissible pipe bend: 10d
Working range of temperatures: -40ºС … +80ºС
Storage battery capacity of the trolley: 24V 36A/hour
Gasoline generator: 2.1kW 6 hours
Autonomous distance: 2 km
Braking accuracy: ± 5 mm
Maximum voltage of the tube: up to 360 kV
Maximum anode current of the tube: up to 6 mA
Maximum power on the anode of the tube: 900 W
Maximum weight of the unit: up to 50 kg

» Details


add to cart

delete from cart
Trolley for the crawler evacuation out of the pipe, for model X-25
Trolley for the crawler evacuation out of the pipe, for model X-25



add to cart

delete from cart
Trolley for the crawler evacuation out of the pipe, for models X-76 and X-85
Trolley for the crawler evacuation out of the pipe, for models X-76 and X-85



add to cart

delete from cart