| | | |
| --- | --- | --- |
| | extravolt (cable x-ray) | |
STATIONARY HIGHLY STABILIZED
UNITS OF CABLE TYPE, SERIES "EXTRAVOLT"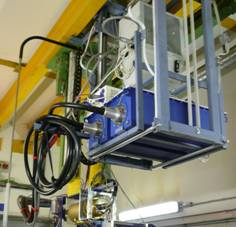 EXTRAVOLT – this is a series of cable units with constant potential. High stability, low noise, possibility to select and easy change cermet X-ray tube, having necessary capacity and sizes of the focal spot, make these units completely universal for the application both in the radiography and in the radioscopy.
Below you could find the list of available units of the series EXTRAVOLT with their brief technical characteristics. To get more detailed information about any specific unit push button "Details" in the unit description. To order the unit push button "Order".
General information about X-ray units of series EXTRAVOLT .

Before the selection of any unit, it is recommended to read the article "Criteria for the selection of stationary X-ray units".
After the selection of X-ray unit it is necessary to select X-ray tube. To do this, switch to the chapter "Cermet tubes produced by Thales Electron Devices"
---
Стационарные рентгеновские аппараты кабельного типа серии EXTRAVOLT
The model is designed for the radioscopy and radiography of plastics, composites, ceramics, rubber, light-alloy castings and similar objects.

Maximum voltage: 160 kV
Maximum power: 1600 W
Depth of radiographic penetration in terms of steel: 46 mm*
Weight of the shielded tube: 6.5 kg
Voltage: 120V...240V 50/60Hz

» Details


add to cart

delete from cart
Рентгеновские трубки для аппаратов EXTRAVOLT
The model is designed for the radiography of plastics, composites, ceramics, rubber, light-alloy castings and similar objects.

Maximum voltage: 160 kV
Maximum power: 3000 W
Depth of radiographic penetration in terms of steel: 50 mm*
Weight of the shielded tube: 6.5 kg
Voltage: 380V 50/60Hz

» Details


add to cart

delete from cart
Микрофокусные рентгеновские аппараты с рентгеновской трубкой открытого типа серии EXTRAVOLT MF
The model is designed for the radioscopy and radiography of plastics, composites, ceramics, rubber, light-alloy castings and similar objects.

Maximum voltage: 225 kV
Maximum power: 1600 W
Depth of radiographic penetration in terms of steel: 64 mm*
Weight of the shielded tube: 12 kg
Voltage: 120V...240V 50/60Hz


» Details


add to cart

delete from cart
Переносные рентгеновские аппараты PXS EVO
The model is designed for the radiography of plastics, composites, ceramics, rubber, light-alloy castings and similar objects.

Maximum voltage: 225 kV
Maximum power: 3000 W
Depth of radiographic penetration in terms of steel: 76 mm*
Weight of the shielded tube: 12 kg
Voltage: 380V 50/60Hz

» Details


add to cart

delete from cart
Штативы для рентгеновских трубок
The model is designed for the radioscopy and radiography of large-size light-alloy castings, steel castings, welds of big thickness and similar objects.

Maximum voltage: 350 kV
Maximum power: 2000 W
Depth of radiographic penetration in terms of steel: 92 mm*
Weight of the shielded tube: 45 kg
Voltage: 120V...240V 50/60Hz

» Details


add to cart

delete from cart
Переносные рентгеновские аппараты MCT
The model is designed for the radioscopy and radiography of large-size light-alloy and steel castings, welds of big thickness and similar objects.

Maximum voltage: 320 kV
Maximum power: 2000 W
Depth of radiographic penetration in terms of steel: 85 mm*
Weight of the shielded tube: 45 kg
Voltage: 120V...240V 50/60Hz

» Details


add to cart

delete from cart
Переносные рентгеновские аппараты Ratmir
The model is designed for the radiography of large-size light-alloy castings, steel castings, welds of big thickness and similar objects.

Maximum voltage: 350 kV
Maximum power: 4200 W
Depth of radiographic penetration in terms of steel: 98 mm*
Weight of the shielded tube: 45 kg
Voltage: 380V 50/60Hz


» Details


add to cart

delete from cart